You are here
Mental Health America Hill Day in Washington, DC
Yearly, Mental Health America (MHA) advocates visit with Congress to share the priorities of a leading behavioral health organization. At our congressional reception, select Members of Congress and the Senate make brief remarks based on their exemplary leadership in advancing legislation that promotes and protects the behavioral health of Americans.
For the second year in a row MHA is joining forces with the American Foundation for Suicide Prevention (AFSP), a voluntary health organization that gives those affected by suicide a nationwide community empowered by research, education and advocacy to take action against this leading cause of death. AFSP has chapters in every state.
Congress needs to hear our critical B4Stage4 message to consistently advance federal legislation that reflects our philosophy: prevention for all, early intervention and integrated care, services and supports for those who need it, with recovery as the goal.
Please join us for meetings on Capitol Hill on Tuesday, June 12th, 2018!
Schedule:
| | |
| --- | --- |
| Time | Activity  |
| 8:00 am - 9:00 am | Kickoff Breakfast Meeting at the Hyatt Regency Washington on Capitol Hill |
| 9:00 am - 4:30 pm | Meetings with Congress at the Capitol |
| 5:00 pm - 6:00 pm | Reception honoring Congressional Mental Health Champions at the Washington Court Hotel Ballroom |
The Hill Day Breakfast Kickoff meeting is being held at 8:00 am - 9:00 am Eastern Daylight Time at the Hyatt Regency Washington on Capitol Hill, which is located at 400 New Jersey Avenue NW, Washington, DC 20001.
Individuals schedule their own meetings with legislators prior to Hill Day and, throughout the day, take those meetings with Senators and with Representatives. Senate Office Buildings are located on Constitution Avenue, a few blocks from the Hyatt Regency Hotel, and the House Office Builings are located on Independence Avenue. A map of the Capitol Complex may be found here. 
Starting at 5:30 5:00 pm Eastern time, a Congressional Reception honoring legislators and legislative staff for their work is being held at the Washington Court Hotel (located one block North of the Hyatt Regency Washington). The Reception address is 525 New Jersey Ave NW, Washington, DC 20001.
Registration: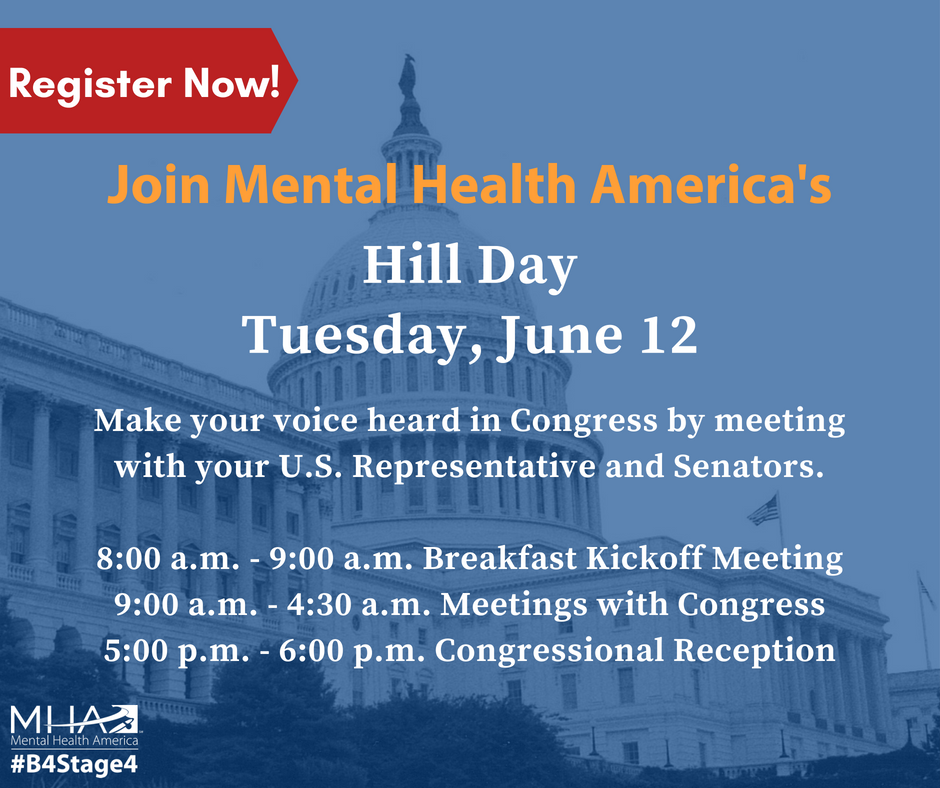 Scheduling Your Own Meetings:
One you've completed registration for Hill Day (or for the MHA Annual Conference), the next item to do is to start scheduling meetings with your legislators.
To contact your Members of Congress directly, you may visit their website. Senators are listed at www.senate.gov by state, and House Representatives are listed at www.house.gov (enter your zip code to view your Representative).
It is important to read the instructions for submitting scheduling requests provided on the website, or to call the office to ask the proper way to schedule an in-person meeting in the Washington, DC office. You may find that your Senators or House Representative prefer different methods of receiving scheduling requests. One office may require a form on their website to be completed to schedule a meeting, and another office may prefer requests to be sent in an email.
Once a request is submitted, maintain confirmation of receipt. If you do not hear back from an office about two weeks before Hill Day (Tuesday, May 29) it is appropriate to call and check to be sure the request has been received and to check on the status of your request. Have the details of your request at hand upon calling as you may be asked to provide these.
Attempt to confirm your meeting(s) on the Senate side at least 30 minutes apart from a meeting on the House side as a courtesy to yourself. This will allow time to walk across the Capitol complex, go through airport-style security, and find the office in which you will meet. 
You will certainly want to wear comfortable shoes for your visit.
For additional tips to prepare a successful meeting, join the June 5th Advocacy Conference Call and read our Blog Post: 8 Tips for a Successful Hill Visit.
Advocacy Telephone Conference:
MHA is pleased to facilitate an Advocacy Conference Call to assist advocates in engaging with legislators on Capitol Hill and in home districts. The conference call will take place on Tuesday, June 5 from 3:00 pm - 4:00 pm EDT. Register for Hill Day to obtain the call-in details.
Talking Points:
The 2018 Hill Day Talking Points may be found here. As Congress continues their work on the opioid response package, the status of many of these bills may change. Even on the day of your visit a committee may decide to add or eliminate speific language from bills we are in favor of. Knowing the fluidity of legislation can help guide your conversation and questions during visits with legislators. 
Back Home Calls to Legislators: 
For those unable to join Hill Day in Washington, D.C. in person, we encourage you to make telephone calls to your Senators and Representatives on June 12th. Calls from Back Home will supplement the meetings and amplify louder the B4Stage4 message to Congress. Click here to find your legislators.
Questions?
Send your questions and or comments to Caren Howard, our Advocacy Manager.