You are here
MHA News From National: April 28, 2017
News From National: April 28, 2017
By: Mallory Pernell, MHA Associate Director of Communications and Marketing
In this update:

It's almost May! That means Mental Health Month is around the corner. This year's theme is Risky Business, and will tackle the issues of substance use, prescription medication misuse, sexual behaviors, over-exercise, and more! Read more.
---
Early Bird Registration Ends Sunday!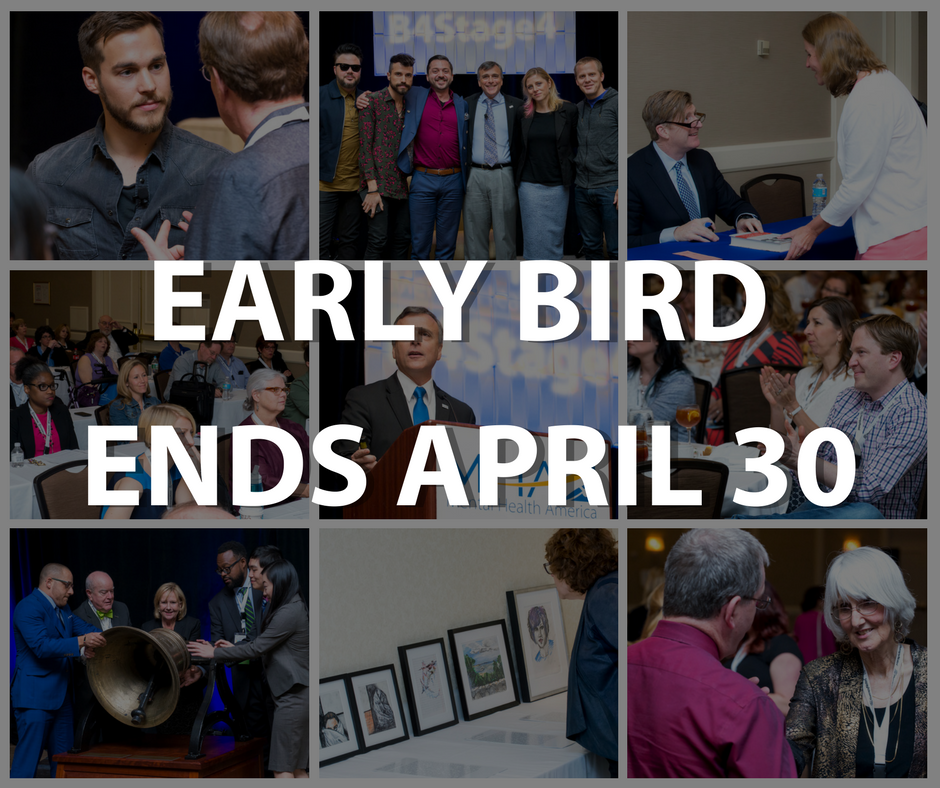 Early Bird registration ends this month on April 30! After this date, registration to the conference will become full price. Don't delay, register now to save big!
2017 MHA Award Winners Announced!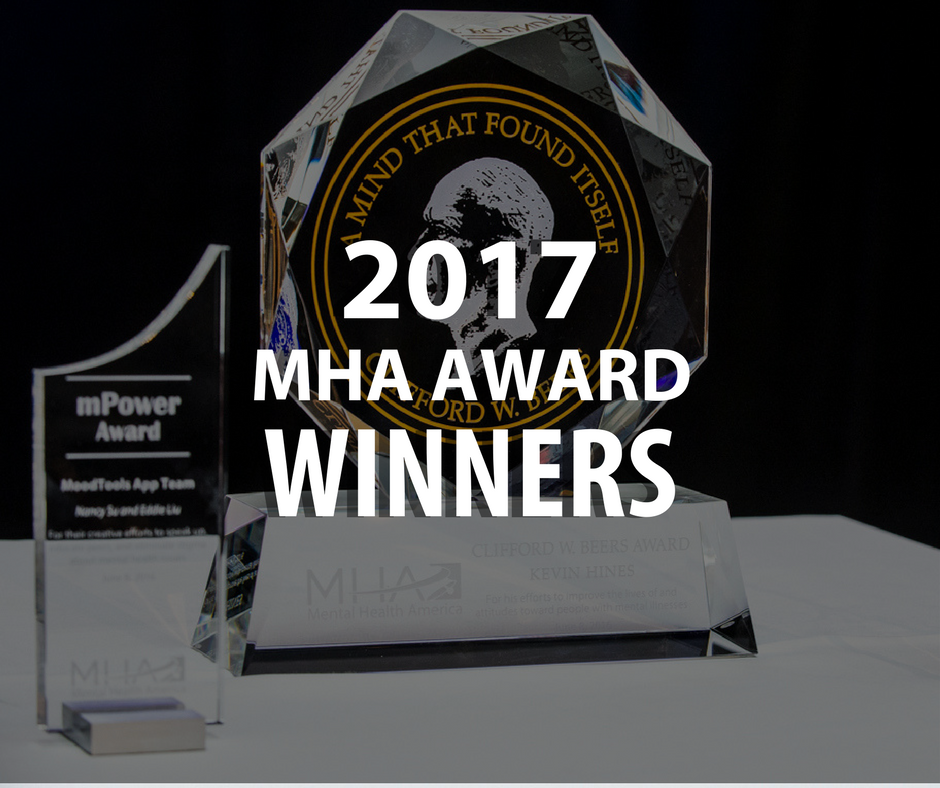 We are pleased to announceMHA's 2017 Award Winners! During the 2017 Annual Conference we will honor an impressive group of individuals, communications professionals and innovative programs throughout the three days.
MHA's 2017 Legislator Award goes to U.S. Senator Bill Cassidy, U.S. Senator Chris Murphy, Congressman Tim Murphy, and Congresswoman Eddie Bernice-Johnson for their tireless efforts over the last two years to pass mental health reform. Last December, despite a polarizing Congress, they successful led a bipartisan passage of the most comprehensive mental health systems reform legislation in more than fifty years.
MHA's Clifford W. Beers Award will be presented to mental health advocate Brandon Staglin. The Clifford W. Beers Award is presented annually to mental health consumers who best reflect the example set by MHA founder Clifford W. Beers in his or her efforts to improve conditions for and attitudes toward people living with mental health conditions. Brandon is the Director of Marketing and Communications for Staglin Family Vineyard and One Mind Institute, and Board Director for One Mind and One Mind Institute. Brandon's recovery from schizophrenia makes him happy every day he can contribute to the health of others.
MHA's Innovation in Programming Award, which recognizes the continuing innovation and creativity of the MHA affiliate network in program development and implementation, goes to MHA of New York City. MHA-NYC is the first organization in the country to offer evidence-based online cognitive behavioral therapy (CBT) with live telephone, text and chat supports.
MHA's 2017 Media Award will be presented on June 15 during the Media Awards Luncheon, with emcee NBC-4 Washington anchor Doreen Gentzler. This year's recipients include:
MHA's mPower Award goes to 17-year-old Nadia Ghaffari. A junior at Los Altos High School, Nadia is also the founder of the 501(c)3 nonprofit organizationTeenzTalk.organd the author of the children's book Growing a Brain. Nadia was inspired to start a peer movement to build a community of compassionate teens and mental health activists who are educated on how to be well and prioritize wellness, after her own experience with aiding in the prevention of a close friend's suicide.
MHA's George Goodman and Ruth P. Brudney Social Work Award this year goes to Kate Mahoney, who currently serves as Executive Director of the Naomi Ruth Cohen Institute for Mental Health Education at the Chicago School of Professional Psychology. Kate's role involves delivering educational and skill-building sessions to youth and adults to promote mental wellness, providing support to individuals and families directly impacted by mental illness, and advocating to reduce stigma and discrimination against individuals grappling with mental health challenges.
Session Spotlight
News From National is putting a spotlight on some of the fascinating topics that will be covered in June. Here are some highlights from Day 2 of Sex, Drugs and Rock & Roll:

Slaying the Hydra: Concurrent Drug and Mental Disorders
Speaker: Tonmoy Sharma, Chief Executive Officer of the Sovereign Health
Approximately 8.9 million people in the United States have a so-called "dual diagnosis;" that is, a mental health condition coupled with an addiction disorder. The occurrence of drug addiction in the mental health setting is not terribly surprising. Self-medicating makes a lot sense—marijuana numbs the pain of depression, Valium tames panic attacks, and cocaine and crystal meth can break a pattern of apathy and social withdrawal. The stigma associated with mental illness in and of itself can be a driver of drug use. Although a causal relationship between drug use and mental illness cannot always be established, research has shown us that using drugs can trigger symptoms of mental illness. And the two disorders can be inextricably intertwined—overlapping factors such as underlying brain deficits, genetic vulnerabilities, and/or early exposure to stress or trauma can trigger either one. Whatever the cause is, drugs do not provide long-term relief from underlying mental health symptoms, and ultimately can exacerbate symptom severity in mental health disorders such as paranoia, delusions and depression. Despite the prevalence of co-occurring mental and drug disorders in this country, SAMHA reports that the majority if affected individuals, a staggering 55 percent, receive no treatment for either disorder, and only 7 percent are treated for both issues. This deficit must be addressed. It is complicated, but it can be done. We can and must identify and diagnose people with dual diagnosis, and implement targeted treatment plans to effect recovery. We can slay the Hydra.
Music, the Arts, and Welcoming Faith Based Communities
Speaker: Reverend Vanessa Wilson, JD, strategist, speaker, writer and educator, and Senior Pastor of Magnolia Road United Methodist Church

This workshop will explore the ways that faith based communities can use music, dance and other art forms to create a welcoming and healing community for people who are experiencing or have experience trauma, toxic stress or other mental or emotional health concerns. The workshop will provide an overview of how music and dance and other art forms have been used historically; we will examine the use of music and the arts in the African American Church as a healing modality and provide strategies application that can be used in diverse church settings.
Last Call for Exhibits and Sponsorships
Want to promote your organization and be seen by hundreds of mental health advocates, clinicians, and consumers? Considering sponsoring or exhibiting at the conference. Hurry, exhibit space is filling up fast! Secure your spot today.  
For more information on MHA's 2017 Annual Conference, check out MHA's 2017 conference website at www.mentalhealthamerica.net/annualconference.
---
Congress is back in session this week. This week they are working to pass a one-week budget extender to keep the government funded, with plans to continue working on a budget next week. There have been attempts to amend and revive the American Health Care Act, with House leadership currently seeing if they have the votes. MHA sent out an action alert yesterday, urging advocates to take action against the bill that could limit access to mental health services for millions of Americans. If you haven't taken an action yet - take a minute now.
---
What We're Reading

Features Paul Gionfriddo:
The Hill: Key Republican blasts Trump's mental health pick
NPR: Grief, Recovery And Personal Treatment
From Around the Web:
The Dispatch: Change in 52-year-old Medicaid rule will expand mental-health care
USA Today: Surgeon general dismissed, replaced by Trump administration
Daily Press: Signs of hope on mental health 10 years after Tech tragedy
Washington Examiner: Study: Despite coverage expansions, mental health treatment lags
ABC News: Schools warn parents about Netflix's '13 Reasons Why'
---
Where in the World is Paul Gionfriddo?
On Thursday, Paul was in the studios of WXEL in Boynton Beach, FL doing a live, hour-long On Point show on mental health for NPR. On Friday, Paul was the morning keynote speaker for the In and Age of Violence conference in West Palm Beach, FL sponsored by MHAPBC, and attended by MHA SW FL and MHA NE FL affiliates.
This week, Paul was in Providence, RI at its PBS affiliate to tape the video/audio Sirius Radio and PBS broadcast "Story in the Public Square," which this week will feature MHA and Losing Tim.
---
May is Mental Health Month!
May is almost here! Have you downloaded the May is Mental Health Month toolkit yet?  
This year's theme for May is Mental Health Month is Risky Business. MHA calls on all communities to educate ourselves and others about habits and behaviors that increase the risk of developing or exacerbating mental illnesses, or are signs of mental health problems themselves. Activities like unprotected sex, multiple sexual partners, recreational drug use, internet/gaming addiction, excessive spending, or disordered eating can all be behaviors that can disrupt someone's mental health and potentially lead them down a path towards crisis.
The toolkit includes fact sheets, infographics, sample social media posts, and other exciting new features.
Additionally, MHA has created an interactive quiz at www.mentalhealthamerica.net/whatstoofar to learn from Americans when they think specific behaviors or habits go from being acceptable to unhealthy.
Check out some sample images from the toolkit below!:
Visit http://www.mentalhealthamerica.net/may to download the toolkit today!
Booster Program Surpasses Goal!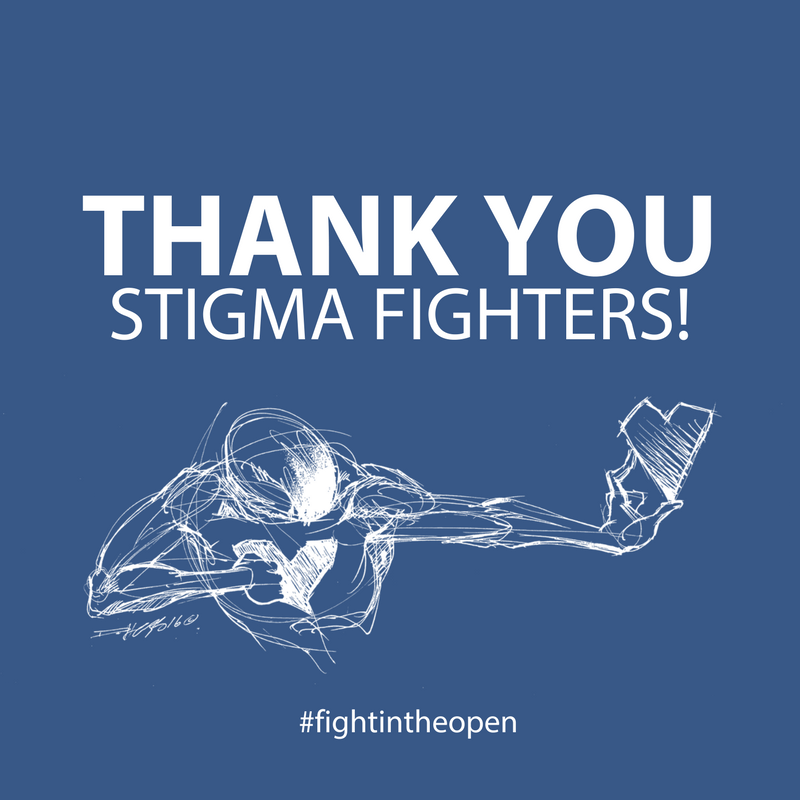 MHA partnered with Booster.com, a free crowdfunding platform that helps organizations raise awareness and funds online through the sale of customized items to launch its first campaign to inspire individuals to FIGHT IN THE OPEN.
In just 36 days, you helped us raise over $4,500 for mental health awareness, outreach, and education programs just in time for Mental Health Month by choosing to #FightInTheOpen – thank you.
Stigma Fighter t-shirts will be delivered in about 2 weeks, so don't forget to take a selfie with your t-shirt and tag Mental Health America on Twitter, Facebook, or Instagram with the hashtag #FightInTheOpen for Mental Health Month!
PsychU to host Virtual Forum
Title: Dealing With Stigma In Mental Health: Are We Making Progress?
Date: Wednesday May 10, 2017
Time: 12PM EST | 9AM PST
Individuals living with mental health conditions can face significant stigma, not only from the public, but also from health care providers. Combatting such stigma is important, as it can have an impact on the lives and outcomes of individuals experiencing mental health conditions. In this virtual forum, Patrick Corrigan, PsyD and Kent Alford, RN, BSN, will review several types of stigma, discuss the occurrence of stigma within the health care community, explore approaches for targeting and reducing stigma, and address additional considerations and resources for fighting stigma in mental health. The virtual forum will conclude with time for questions from the audience.
Speakers: Patrick Corrigan, PsyD, Distinguished Professor of Psychology at the Illinois Institute of Technology.
Kent Alford, RN, BSN is a part of Adventist Healthcare Behavioral Health and Wellness Executive Leadership Team, serving as Chief Nursing Officer.
Moderator: Kimberly Lonergan, RN, MSN, serves as a Medical Science Liaison for Otsuka Pharmaceutical Development & Commercialization, Inc
Learn more at: https://www.psychu.org/events/dealing-stigma-mental-health-making-progress/
---
Learn How New Brain Treatment and Fitness Technologies Are Improving Health Outcomes at BrainFutures 2017
Scientific advances in our understanding of the brain and evolving new technologies for brain fitness and illness treatment will radically shape care over the next generation. Join the Mental Health Association of Maryland and attendees from across the nation as BrainFutures 2017 presents innovative solutions resulting from increased understanding of brain neuroplasticity. BrainFutures 2017— set for September 6-7 at the Gaylord National Harbor Resort just outside of Washington, DC — features three comprehensive learning tracks: New treatment technologies for mental illnesses and substance use disorders; Brain fitness, youth and learning and Brain fitness and healthy aging. Participants will learn from world-renowned leaders about the latest advancements, such as:
How genetics and biomarkers can improve medication treatment selection for common mental illnesses, boosting patient outcomes and reducing cost;
How integrated programs —featuring neuro­feedback, mindfulness training, computer-based cognitive learning, diet and exercise— are improving outcomes across the lifespan from student performance to brain resiliency as we age; and
How computer-based cognitive learning, brain stimulation, diet, exercise and more are adding value to care regimens for mental illness and substance use treatment.
Save $200 if you register by May 31, at www.BrainFutures.org. Continuing education credits are available.
MHA of Kentucky Names New Executive Director
Bonnie Cook, MAS leaves MHA of Kentucky after three years of service. Her husband's career is relocating her to Dallas, Texas. Bonnie hopes to connect with mental health agencies in her new state and will not remain idle. "It has been a joy working here," says Bonnie.
Marcie Timmerman, MHA joins MHA of Kentucky as the new Executive Director. Her work with the University of Kentucky Outpatient Opiate Addiction Treatment Clinic led her to pursue a master's degree in health administration, which she received in 2014. Health policy, social media management, nonprofit fundraising and peer support are strengths she brings to the organization. Her most recent position was with the Kentucky Equal Justice Center as a social media and communications manager. She has a close working relationship with Participation Station, a peer support center in Lexington KY. She's also worked at fundraising and coordination for the Lexington Music Awards and Advocacy Action Network, a health policy nonprofit. Marcie is the proud mom to Will, her three-year old son and is married to David, a computer programmer. She's lived in Lexington for nine years and is a proud Buckeye (Ohio State University fan).
MHA of Greater Washington
Community Health Education and Research Corporation was founded by Dr. Divine Chiangeh in September 2014, with a vision of planning and executing health prevention programs for minority communities in Prince Georges and Montgomery Counties, Maryland. When the organization was founded, programs such as Diabetes prevention, HIV prevention and mental health education were at the core of its mission. Dr. Chiangeh worked closely with his colleague, Ms. Anita Mwalui, who is very passionate about health disparities and minority health. Ms. Mwalui came along with more than 7 years of experience, consulting with nonprofit organizations in Montgomery County.
The work that Dr. Chiangeh and Ms. Mwalui effected in Montgomery and Prince Georges Counties resulted to an increase in referrals to low cost healthcare and an increase in community awareness and empowerment in major health issues. After an evaluation of their accomplishments, Dr. Chiangeh and Ms. Mwalui realized that the most pressing area of need in the communities of Prince Georges and Montgomery County was and is Mental Health. In addition, mental health was an area that was grossly under-represented and underfunded, yet presented one of the greatest health issues in Prince Georges and Montgomery Counties.
Dr. Chiangeh decided that, in order for the organization to produce the most beneficial health impact, it would be necessary for the organization to prioritize mental health and direct its resources towards mental health education, referral to mental health resources, mental health empowerment and advocacy. Dr. Chiangeh contacted Mental Health America (MHA) for a partnership to achieve these objectives and this eventually led to the creation of the Mental Health Association of Greater Washington (MHAGW), a chartered affiliate of Mental Health Association of Maryland (MHAMD).
In 2016, MHAGW was awarded a grant from Prince Georges County to create awareness and educate the community on mental health issues. In the same year, the organization was awarded another grant from the Montgomery County council to educate local communities on the existence of mental health issues, prevention strategies and referrals to mental health providers. In the last quarter of 2016, the MHAGW was awarded a third grant from the State of Maryland Department of Healthcare Quality to teach mental health first aid to employees of Assisted Living facilities, with a roadmap to help them improve the quality of service they offer to residents.
MHAGW currently partners with many other community organizations in Prince Georges and Montgomery Counties, to educate and empower local communities in mental health fairs, hosting mental health first aid trainings, mental health advocacy, mental health empowerment, all with the goal of preventing and reducing mental health disease. MHAGW host, partner or participate in at least two health fairs every month and teach at least one mental health first aid class every month. With the benevolent and dependent support of MHA and MHAMD, MHAGW has been able to account for a measurable positive impact, through mental health first aid trainings, awareness and referrals to providers, in Prince Georges and Montgomery Counties.
MHAGW wishes to thank MHAMD President and CEO Linda Raines, for her passionate and committed efforts in supporting and helping MHAGW achieve its mission and vision. The MHAMD team has been very supportive, and they are the main reason why MHAGW has been very successful in creating a positive mental health impact in the local communities.
Innovation Nation
Each year, MHA brings together successful affiliate programs and best practices through Innovation Nation. Innovation Nation will be held again this year during the MHA Annual Conference, to honor the 2017 Innovation in Programming Award winner and recognize influential programs from MHA affiliates. We are dedicating 10 exhibit booths –FREE of charge—to affiliates who are interested in sharing a creative and innovative program that can be replicated by other affiliates throughout the country. Also, in addition to displaying a poster and manning an exhibit booth, 10 affiliates including the Innovation in Programming winner (TBD) will have the opportunity to showcase their successful innovative programs, during the Affiliate Exchange Lunch during Pre-Conference Day for Affiliates on June 13. Click here to reserve your booth.
Creating Linguistically and Culturally Competent Suicide Prevention Guide Now Available
The Suicide Prevention Resource Center (SPRC) has released its new guide, Creating Linguistically and Culturally Competent Suicide Prevention Materials. Developed in collaboration with the California Mental Health Services Authority (CalMHSA), this guide was designed to help public health practitioners produce suicide prevention materials for specific linguistic and cultural communities. Read More
RPC Seeks Nominations for Legislator Awards
The Regional Policy Council is currently seeking nominations for legislator awards. Affiliates may nominate state legislative champions that exemplify leadership in mental health in their state. Please submit to your RPC Representative or email Caren Howard at choward@mentalhealthamerica.net.
---
Feedback on NFN?
Want to see more or less of something? MHA welcomes your feedback! Please send any thoughts and suggestions to me at mpernell@mentalhealthamerica.net