You are here
MHA News From National: February 23, 2017
---
Extra Early Bird Prices End Soon!
The early bird gets the worm, but for MHA's 2017 Annual Conference, the extra early bird gets the best prices! This year, we're offering super-discounted conference ticket prices – but not for much longer! This discounted price ends March 1st, so make sure to purchase your conference tickets by February 28th – that's next Tuesday! Click here to register or visit www.mentalhealthamerica.net/annualconference.
Glennon Doyle Melton Tickets Almost Sold Out!
Individual tickets to hear New York Times best-selling author Glennon Doyle Melton are almost sold out! Glennon will be speaking at a special evening event on Thursday, June 15. Admission is included in conference registrations, but individual tickets to the event can also be purchased. Tickets are going fast, so be sure to get yours before they're gone! Click here purchase tickets.
2017 Agenda Now Live!
We are excited to announce that the agenda for MHA's 2017 Annual Conference is now online! Check out the exciting breakout sessions and speakers.
Reminder: Call for Awards Nominations Open
The call for Conference Awards Nominations is live! We are asking for nominations for the following awards: Innovation in Programming Award, mPower Award, George Goodman and Ruth P. Brudney Social Work Award, Clifford W. Beers Award, and the Media Awards.
View the nomination guidelines and award descriptions here and submit your nominations here.
Self-nominations are welcome, and you may submit multiple nominations. Please note the 2017 Legislator Awards are awarded under a separate process. The deadline for all submissions is March 31, 2017.
Exhibits and Sponsorships
Want to promote your organization and be seen by hundreds of mental health advocates, clinicians, and consumers? Considering sponsoring or exhibiting at the conference. Learn more here.
For more information on MHA's 2017 Annual Conference, check out MHA's 2017 conference website at www.mentalhealthamerica.net/annualconference.
---
Congress is on recess this week, and Members are back in their districts meeting with constituents and hosting town halls. Speaker Paul Ryan released a policy brief before the recess on a replacement plan, but the debates continue, especially as Members hear from their constituents. With Tom Price confirmed as Secretary of Health and Human Services, the agency released a new proposed rule on the ACA, which MHA will be commenting on.
---
Features MHA:
Houston Chronicle: Why our mental health matters, too
Feedspot: Top 60 Mental Health Blogs & Websites For Those Affected With Mental Illness
Businesswire: Demi Lovato, Sunovion and Leading Advocacy Organizations Release Mental Health Documentary as Part of Be Vocal Initiative
From Around the Web:
Washington Post: A Christian mom blogger announces she's engaged to soccer star Abby Wambach (features conference speaker Glennon Doyle Melton)
NBC Washington: Va. Governor: Cut Jamestown Celebration, Fund Mental Health
Health.com: 'This Is Us' Showed How Debilitating and Scary an Anxiety Attack Can Be
Self: How to Talk to Your Boss About Mental Health Issue
---
Where in the World is Paul Gionfriddo?
Last week, Paul spent time in DC and on Capitol Hill meeting with counterparts from the mental health advocacy community, and then meeting with staffers of Senator Cornyn, Majority Leader McCarthy, and Speaker Ryan's office.  This week, Paul will be joining MHA friends and supporters at our own birthday bash and reception at the National Press Club in D.C., where we will honor Governor Inslee of Washington with our B4Stage4 Award for his outstanding work on behalf of people with mental health concerns. Paul's springtime travel calendar between mid-March and the end of May is filling quickly, with trips (so far) to West Palm Beach, FL; New Haven, CT; Hammond, IN; Providence, RI; and Honolulu, HI on the schedule.
---
MHA to Hold Briefing and Honor Governor Inslee
The leadership of MHA and several of its affiliates will gather in Washington, DC for a briefing on the National Academy of Medicine's Perspective Paper Series Vital Directions in Health and Health Care: Why Shifting from Volume to Value Benefits the States. Topic areas to be covered include the importance of mental health to the Vital Directions; recommendations on improving access to quality services; integrating health care and other sectors; and improving community health by and shifting from volume to value.
Following the briefing there will be a reception celebrating the organization's 108th birthday and to honor Washington State Governor Jay Inslee with the MHA 2017 B4Stage4 Leadership Award.
MHA Partners With WomenHeart
We are pleased to announce a new partnership with WomenHeart: The National Coalition for Women with Heart Disease. Given the linkages that exist between heart disease and mental illness, we will be working together to educate our communities about both health issues. WomenHeart is the first and only national patient-centered advocacy organization serving the 43 million American women living with or at risk of heart disease. Through advocacy, education, and patient support, WomenHeart gives women living with heart disease the tools and encouragement they need to empower themselves and educate others regarding women's heart health.
Be Vocal Releases New Documentary
The stigma of mental illness can often lead individuals to believe that no one can understand their story, but we know that sharing one's lived experience is important to helping others believe they're not alone.
That's why MHA's ongoing collaboration with Be Vocal -- a partnership between Demi Lovato, DBSA, The JED Foundation, NAMI, The National Council, Sunovion Pharmaceuticals, and MHA – is so important, and why we are pleased to be a part of a new component of the partnership. Be Vocal has teamed up with  independent filmmaker Shaul Schwarz and Getty Images/Verbatim to announce the release of Beyond Silence.
This documentary follows the efforts of Jeff Fink, Lauren Burke, and Lloyd Hale to live well and break through the silence often associated with mental illness. While the film features individuals who have different diagnoses -- including bipolar disorder, schizophrenia, depression and anxiety -- they all share one common experience: their lives have been transformed by speaking up about their mental health.
Beyond Silence premiered last night in Los Angeles, and can be viewed at http://www.bevocalspeakup.com/documentary.html
MHA Selected as Prime Contractor by SAMHSA
MHA was notified officially this week that our proposal to SAMHSA to participate in its 2017-2022 IDIQ process as a prime contractor was approved!  MHA has not been a SAMHSA prime contractors for several years. We responded to this opportunity in partnership with our affiliates, several of which decided to be subcontractors with us. The full MHA team includes Mental Health Connecticut; Mental Health Association Oklahoma; Mental Health America of Texas; Mental Health Association of Palm Beach County; Mental Health America Montana; Mental Health America of Louisiana; Mental Health America of Greater Dallas; with the Florida Mental Health Institute at USF; and the Center for Health Services and Society at UCLA as university partners; and Alpha Omega Translations as a small business.  Congratulations to them all!
The IDIQ process is used by federal agencies to issue competitively bid task orders to pre-qualified contractors outside of the open RFP process. SAMHSA will set aside up to $1.2 billion over the next five years to distribute this way.  MHA will be a prime contractor for Feasibility, Pilot, and Evaluation Projects.  We were also part of successful teams in Policy (with Lewin as our prime) and Technical Assistance (with Abt and NASMHPD as our primes).  
Join Advocates for Opioid Recovery and Urge President Trump to Take Action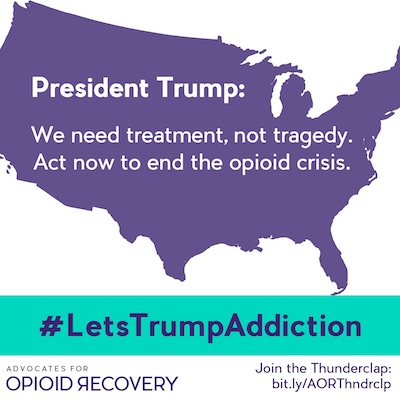 With the number of people dying from opioid overdose now outpacing death rates from car crashes, the time is now to break down the barriers to long-term recovery. Only 3 out of 100 people receive the standard of care for opioid addiction—medication assisted treatment. Because one day can be the difference between life and death, 91 people lose their battle with opioid addiction every day. President Trump has the opportunity now to break the social and institutional stigma surrounding addiction and save lives.
Join Advocates for Opioid Recovery and help flood social media with messages urging President Trump to take action.
1.     Sign up for this Thunderclap so that at 1:00pm on February 28th –the day the President addresses the Joint Session of Congress – we make our voices heard on Twitter and Facebook.
2.     How has the opioid crisis impacted you? Have you or someone you know survived opioid addiction, lost a loved one because they could not get help they needed in a timely fashion, or have had to turn people away from treatment because of the patient cap? Share your stories on social media using #LetsTrumpAddiction.
For more information, visit https://www.opioidrecovery.org/lets-trump-addiction
---
Mental Health America of Kentucky Seeks Executive Director

Mental Health America of Kentucky (MHA-KY) is seeking a highly-motivated and energetic executive director to lead the operations and overall performance of the organization.  The executive director will report directly to the MHA-KY Board President and will work closely with the MHA-KY Board of Directors to set strategy and shape policy on program administration and financial matters. S/he will be responsible for the development and nurturing of a diverse range of partnerships and relationships that will enable MHA-KY to expand its programs and realize its goals.
This is a part-time position (30 hours per week). The office is in Lexington, Kentucky but applicants from other parts of the state will be considered. For a complete position description, click here. To apply, email cover letter and resume to mhaky@mhaky.org and include MHA-KY Executive Director Search in the subject line of the email. Applications will be accepted until March 8, 2017, or until the position is filled.
Established in 1951, MHA-KY is a statewide organization dedicated to promoting mental health, working for the prevention of mental illnesses, and improving care and treatment for persons suffering from mental and emotional disorders.