You are here
MHA News From National: March 9, 2017
---
New Speaker Announcement!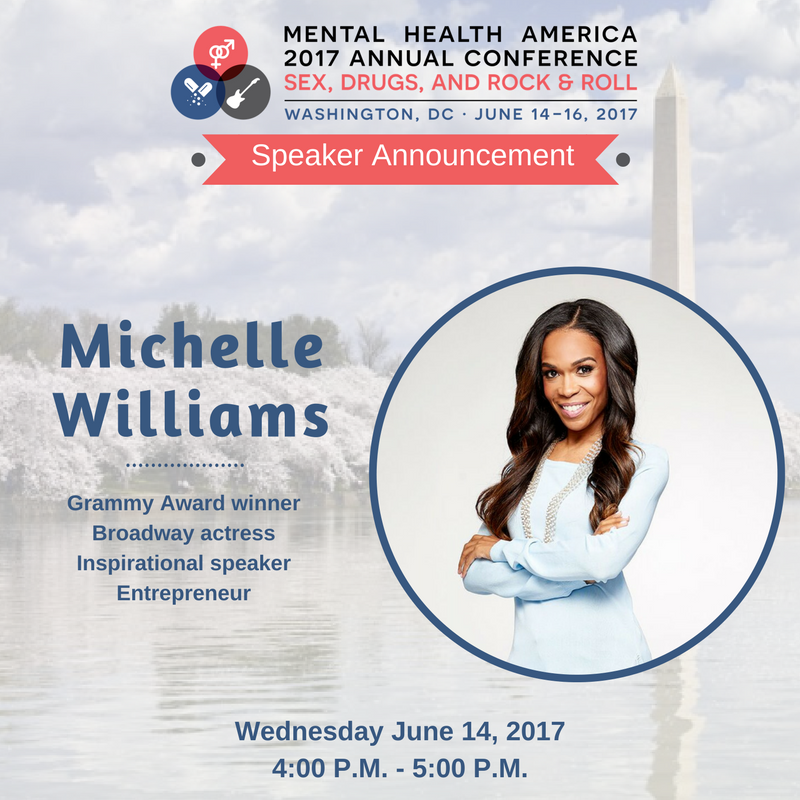 MHA is excited to announce that Grammy Award winning singer/songwriter, Broadway actress, inspirational speaker, and entrepreneur Michelle Williams is confirmed as a speaker for our 2017 Annual Conference: Sex, Drugs and Rock & Roll.
MHA is thrilled to have Michelle share her journey with us on June 14 at our Annual Conference in Washington, DC. She will speak during the afternoon plenary session at 4 p.m. – and if we are lucky she may even sing! Michelle will also be our special guest at the VIP Clifford Beers Society Reception later that evening.
You can see Michelle by purchasing an individual ticket for $25 to her session or by registering for the full conference. The event is included for all registered conference attendees.
Glennon Doyle Melton Tickets Sold Out!
Individual tickets to hear New York Times best-selling author Glennon Doyle Melton are sold out! Glennon will be speaking at a special evening event on Thursday, June 15. Don't worry though – admission is included in conference registration, or you can purchase a one-day ticket for Thursday and still see her.
Reminder: Call for Awards Nominations Open
The call for Conference Awards Nominations is live! We are asking for nominations for the following awards: Innovation in Programming Award, mPower Award, George Goodman and Ruth P. Brudney Social Work Award, Clifford W. Beers Award, and the Media Awards.  
View the nomination guidelines and award descriptions here and submit your nominations here.
Self-nominations are welcome, and you may submit multiple nominations. Please note the 2017 Legislator Awards are awarded under a separate process. The deadline for all submissions is March 31, 2017.
Exhibits and Sponsorship
Want to promote your organization and be seen by hundreds of mental health advocates, clinicians, and consumers? Considering sponsoring or exhibiting at the conference. Learn more here.
For more information on MHA's 2017 Annual Conference, check out MHA's 2017 conference website at www.mentalhealthamerica.net/annualconference.
---
A lot! The House GOP released a new healthcare bill to makes changes to the ACA (Obamacare). Read more about what MHA thinks of this proposed bill in this blog post from MHA president & CEO Paul Gionfriddo.
---
Features Paul Gionfriddo: Politico: Obamacare repeal seen as weakening mental health protections
From Around the Web: Dallas Morning News: Words matter when fighting the stigma of mental illness Gizmodo: DARPA's Brain Chip Implants Could Be the Next Big Mental Health Breakthrough—Or a Total Disaster Military Times: VA to start offering mental health care to 'bad paper' veterans Women's Health: Why X-Files' Gillian Anderson Wants Women To Open Up About Mental Health
---
Where in the World is Paul Gionfriddo?
Paul will be in Jupiter, FL on Saturday evening to receive the Golden Apple Award from the Jerome Golden Center for Behavioral Health, back in town next week, and then off to New Haven, CT to attend a Yale University program on the "Emotion Revolution in the Workplace," sponsored by Yale and our MHA friend Andy Faas and his Faas Family Foundation.
---
MHA Hosted Briefing and Birthday Celebration!   
On Friday, February 24th, the leadership of MHA and several of its affiliates gathered in Washington, DC for a briefing from Dr. J Michael McGinnis, Executive Officer of the National Academy of Medicine (NAM) on NAM's Perspective Paper Series, Vital Directions in Health and Health Care: Why Shifting from Volume to Value Benefits the States. The National Governors Association (NGA) along with MHA are working together to package a report to states on the presentation of Vital Directions which will focus on recommendations to improve mental health care; increase access to quality services; integrate health care and other sectors; and expand community health by shifting from volume to value.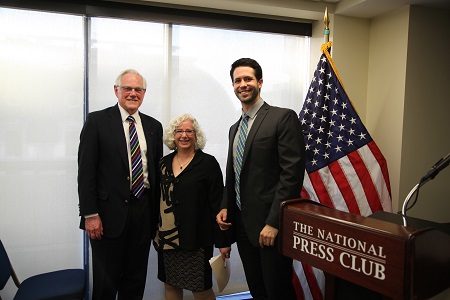 Dr. McGinnis (NAM), Debbie Plotnick (MHA), and Nathaniel Counts (MHA)
Following the briefing a reception celebrating MHA's 108th birthday and an awards presentation honoring Washington State Governor Jay Inslee with the 2017 MHA B4Stage4 Leadership Award took place. In addition to affiliate leadership guests in attendance included policy experts, mental health providers, grant funders, partners, consumers, and other friends of the organization.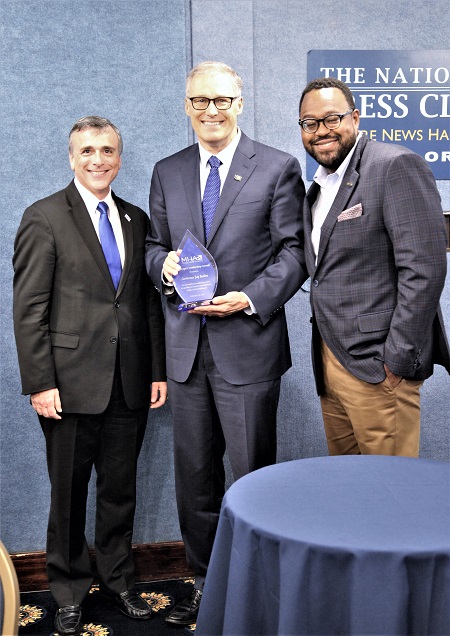 Paul Gionfriddo (MHA), Gov. Inslee (WA), and Reggie Williams II (MHA)
MHA To Host SAMHSA-sponsored National Peer Certification Webinar
Webinar: National Certification for Adult and Parent/Family Peers
March 16, 2017
2:00 PM EST
Across the country, various states have developed independent standards for peer support certification. Due to the variability of these certifications, and with increasing interest and support from private health sectors, there has been a call to develop a national credential that maintains the highest levels of skills, education and experience.
This webinar will explore two models of National Peer Certification, one designed for Adult Peers and one designed for Parent/Family Peers. MHA will share its work to develop the first fully accredited certification program for adult mental health peer support specialists qualified to work in both public and private whole health practices and the National Federation of Families for Children's Mental Health will describe their work in developing the only national certification for Parent/Family peers and their current efforts in the development of reciprocal agreements with states to ensure the portability of this credential.
The webinar will touch on the history of these certifications and provide an overview of the standards, requirements, examinations and processes for maintaining certification. The rigorous processes that are required to develop a national certification will be described as will the requirement for "lived experience", which is the cornerstone for both certifications.
Individuals will learn how they can become national Peer Support Specialists and organizations will learn about the resources available from both organizations, including the most recent evidence on the efficacy of peer services, marketing materials and news from the front lines.
Presenters:
Lori Ashcraft, Founder, Recovery Opportunity Center at Recovery Innovations
Lynda Gargan, Ph.D., Executive Director, National Federation of Families for Children's Mental Health
Patrick Hendry, Vice President for Consumer Advocacy, Mental Health America
Mental Health Month 2017 Toolkit to Launch March 20th
MHA is excited to announce that on March 20, 2017 we will launch the newest May is Mental Health Month toolkit!
When you or someone you love is dealing with a mental health concern, sometimes it's a lot to handle. It's important to remember that mental health is essential to everyone's overall health and well-being, and mental illnesses are common and treatable. Yet, people experience symptoms of mental illnesses differently—and some engage in potentially dangerous or risky behaviors to avoid or cover up symptoms of a potential mental problem. 
That is why this year's theme for May is Mental Health Month—Risky Business—is a call to educate ourselves and others about habits and behaviors that increase the risk of developing or exacerbating mental illnesses, or are signs of mental health problems themselves. Activities like unprotected sex, multiple sexual partners, recreational drug use, internet/gaming addiction, excessive spending, or disordered eating can all be behaviors that can disrupt someone's mental health and potentially lead them down a path towards crisis.
The new toolkit launches on March 20th, 2017. Keep your eyes peeled for an email announcement, and check out www.mentalhealthamerica.net/may.
---
MHA of East Tennessee and MHA of Middle Tennessee participates in TDMHSAS's annual Behavioral Health Day on the Hill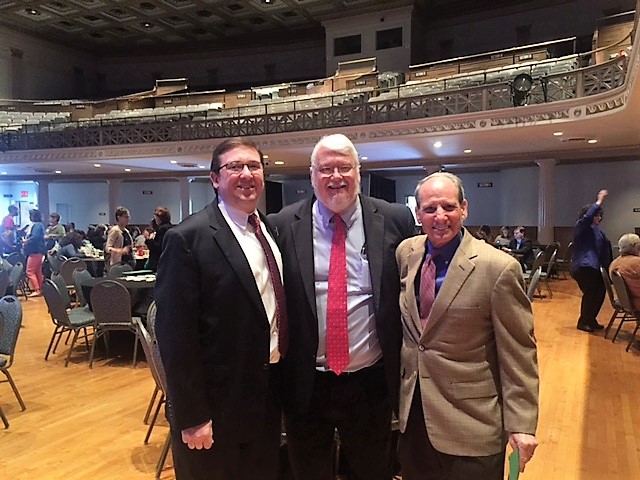 Tom Starling (MHA of Middle TN), Ben Harrington (MHA of Eastern TN), and Dan Eisenstein (MHA Board member)
Mental health advocates, consumers, agencies and others converged in Nashville to attend the annual "Behavioral Health Day on the Hill," on March 8, 2017. The event was sponsored by the Tennessee Coalition for Mental Health and Substance Abuse Services, chaired by MHA Chairman-Elect and MHA of Middle Tennessee President and CEO Tom Starling. Over 30 organizations serve on the coalition, which is fighting for more behavioral health dollars, five parity bills, and excluding people from the death penalty if they had a documented mental illness when their crime was committed. Over 425 registered for the event with one of the largest crowds coming from MHA of East Tennessee in Knoxville. MHA Board member and retired Judge Dan Eisenstein, was instrumental in the $15 million being introduced in the Governor's budget for pre-arrest diversion, and MHA of Middle Tennessee is fighting to retain that funding.  
MHA of Georgia Names New Executive Director
Sarah Schwartz, MSW, MBA, MHA is leaving MHA of Georgia after 10 years as the organization's Executive Director.  In Sarah's words: "Having been with the organization so long, this decision was not an easy one.  I have thoroughly enjoyed the work I've had the privilege to do at MHA and the people, like you, with whom I've had the honor of working.  I will be leaving MHA of Georgia to take a position at Emory University as Director of the Veterans Mental Health Program in the University's Brain Health Center.  Although bittersweet to be leaving after a decade, I am excited for the new challenges ahead in my upcoming role.  I am leaving MHA of Georgia in a good place with regard to our programs and advocacy & policy work.  I am certain that the great work we do for the state will continue with the strong team that's in place and with the addition of an amazing new Executive Director!  Mrs. Jewell Gooding will be taking the helm at MHA of GA on April 3, 2017."    
Jewell H. Gooding, MBA, MA, NCC is a National Certified Counselor with a personal investment in Mental Health.  As a mother of three active boys, Mrs. Gooding strives to create an environment that welcomes diversity and celebrates advocacy.  Mrs. Gooding's fervor for mental health emerged from her work as a case manager at a homeless shelter while obtaining her Bachelor of Science in Psychology at Tennessee State University.   In 2005, Mrs. Gooding received a Master's Degree in Mental Health Counseling and provided individual and family therapy to youth as well as families for 13 years.  In 2015, she received her Master's in Business Administration from the University of Georgia to provide expertise in business and program development to assist organizations in building sustainable programs for youth, young adults and families seeking recovery support services throughout Georgia.