You are here
Mental Health Month
Since 1949, Mental Health America and our affiliates across the country have led the observance of May is Mental Health Month by reaching millions of people through the media, local events and screenings. We welcome other organizations to join us in spreading the word that mental health is something everyone should care about by using the May is Mental Health Month toolkit materials and conducting awareness activities.

May is Mental Health Month 2019
This year marks MHA's 70th year celebrating Mental Health Month!
Download our toolkit by clicking the purple box below. 
In 2019 we are expanding upon last year's theme of #4Mind4Body and taking it to the next level, as we explore the topics of animal companionship (including pets and support animals), spirituality, humor, work-life balance, and recreation and social connections as ways to boost mental health and general wellness.
Learn More!
While the topics above are relevant to all Americans, they may be especially important to the health of those living with chronic health conditions and the people who care for them. That's why we've put together these additional resources.
2019 Toolkit
The 2019 Mental Health Month toolkit includes:
Key Messages
Sample Press Release
Drop-In Article
May is Mental Health Month Proclamation
Outreach Ideas
Additional Resources
Sample Facebook and Twitter Posts
Profile, Cover, and Shareable images for social media
Call to Action Buttons for Screening and sharing with #4Mind4Body
Horizontal Banner Image
Vertical Banner Image
Fact Sheet: Animal Companionship
Fact Sheet: Spirituality and Religion
Fact Sheet: Humor
Fact Sheet: Work-Life Balance
Fact Sheet: Social Connections and Recreation
May is Mental Health Month 4Mind4Body Calendar/Poster
4Mind4Body Chronic Health Conditions Poster
4Mind4Body Caregivers Poster
During May we'll also look at how our topics may be especially beneficial to people who are living with chronic physical illnesses as we ramp up to our 2019 Annual Conference -- Dueling Diagnoses: Mental Health and Chronic Conditions in Children and Adults, June 13-15 in Washington, D.C. where we will be discussing the impact and intersection of chronic conditions and mental health.
This campaign is supported by contributions from:


---
2018 Toolkit

When we talk about health, we can't just focus on heart health, or liver health, or brain health, and not whole health. You have to see the whole person, and make use of the tools and resources that benefit minds and bodies together. In 2018, our May is Mental Health Month theme was Fitness #4Mind4Body. We focused on what we as individuals can do to be fit for our own futures – no matter where we happen to be on our own personal journeys to health and wellness – and, most especially, before Stage 4.
Learn more about:
Visit mentalhealthamerica.net/4mind4body to see what people did for our #4Mind4Body Challenge in 2018!
Download the 2018 toolkit here.
2017 Toolkit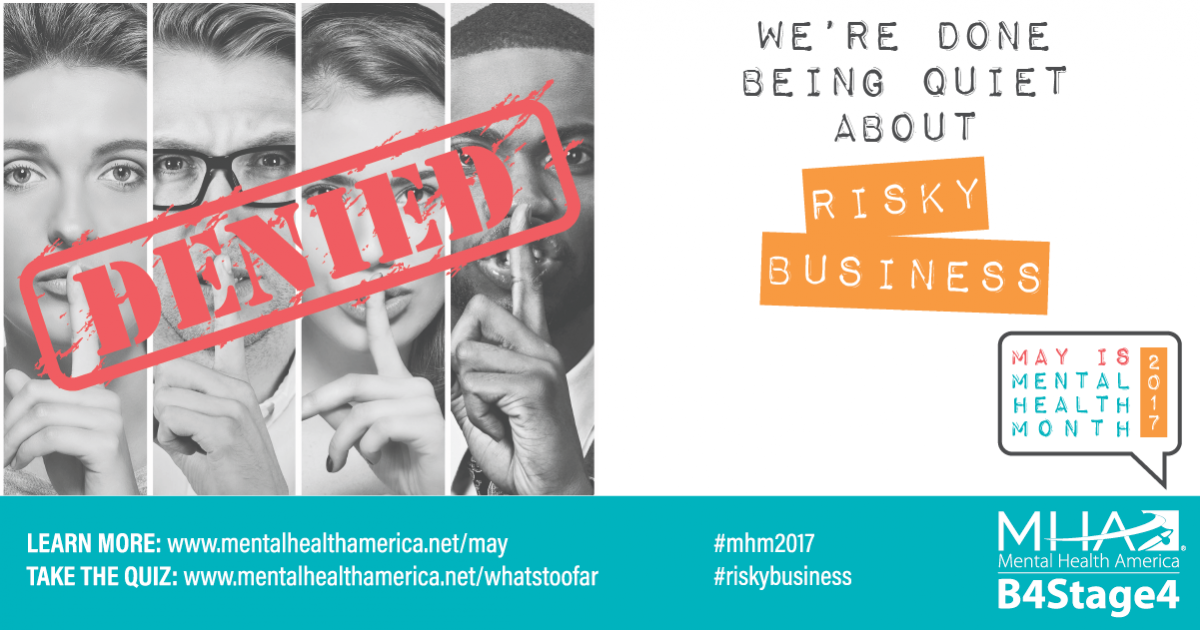 In 2017 Mental Health America offered educational materials, tools, references, and more to help people decide – is this particular behavior a risky behavior for me or for someone I love? And if it is, what can I do about it before it harms me or someone else? Some of this year's materials may make you just a little uncomfortable, because we'll be talking about some things that are often left unsaid. 
Download the 2017 toolkit here.
2016 Toolkit

How does it feel to live with a mental illness? That (#mentalillnessfeelslike) is what we focused on during Mental Health Month in 2016. B4Stage4 means, in part, talking about what mental illnesses feel like, and then acting on that information. It means giving voice to feelings and fears, and to hopes and dreams. It means empowering people as agents of their own recovery. And it means changing the trajectories of our own lives for the better, and helping those we love change theirs.
Download the 2016 toolkit here.
Discover what people say mental illness feels like.
2015 Toolkit

In 2015, we chose "B4Stage4" as our Mental Health Month theme. Here's why. Mental health concerns are no different from any other physical health concerns. They should be thought about and treated the same way – long before they reach Stage 4. We're offering a range of materials, strategies, and resources to bring healthy, B4Stage4 thinking to life.
Download the 2015 toolkit here.
2014 Toolkit

The 2014 Mental Health Month theme, Mind Your Health  was designed to raise awareness about the importance of a healthy lifestyle and its preventative factors and benefits for mind and body and to build a broad public recognition around the role of mental health to overall health.
Download the entire toolkit in a zipped folder.
2013 Toolkit
For 2013 Mental Health America's toolkit used the theme Pathways to Wellness, which was a call to action for Americans to identify strategies that work for themselves individually to attain better overall health status. This theme can be used in conjunction with information about programs and services available through local affiliates.