You are here
Advocacy Update: June 2019
June 24, 2019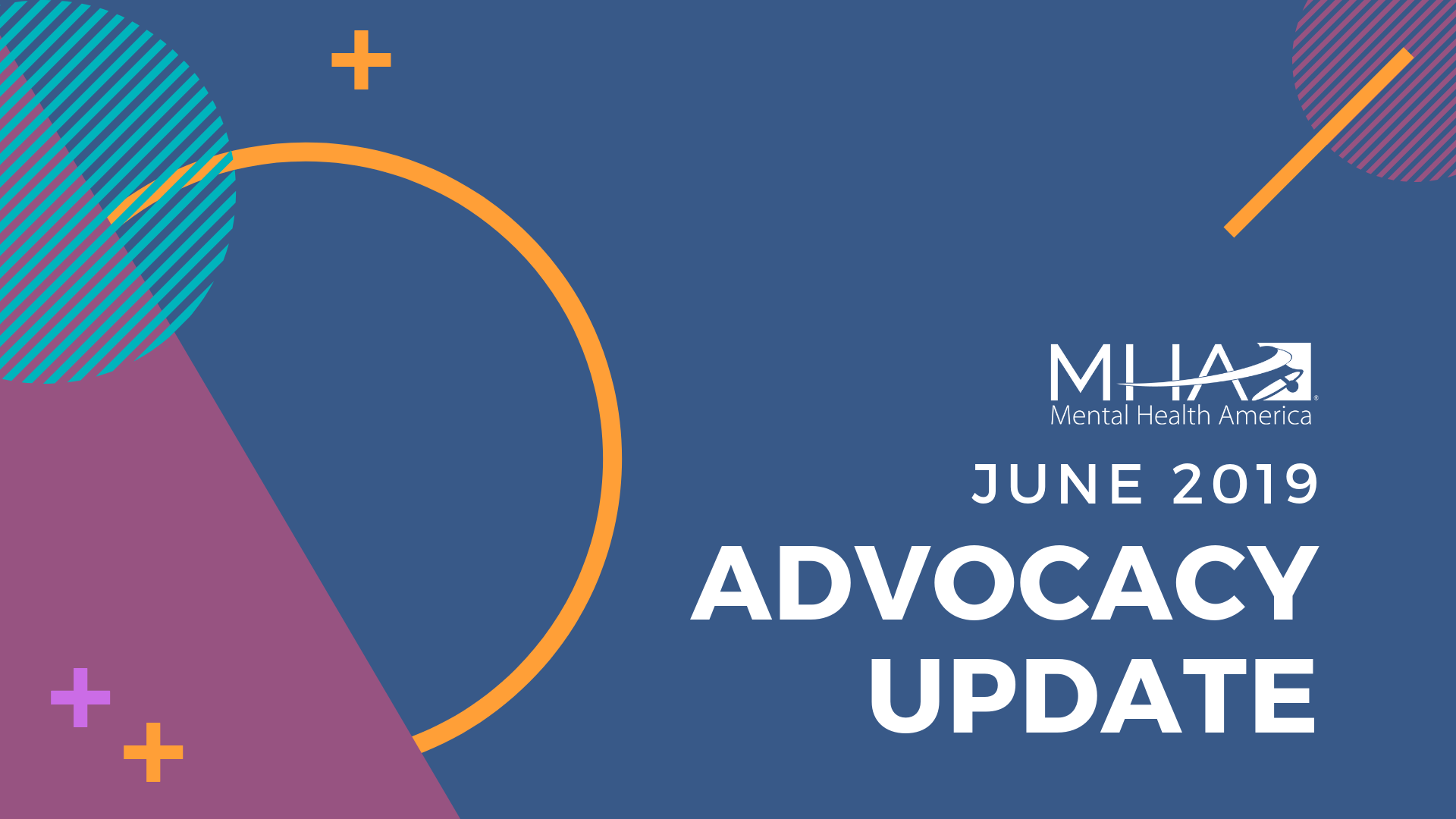 Mental Health America (MHA) knows people are busy so we created the Back Home Campaign Advocacy Update to summarize federal and state mental health news and activities. If you'd like to learn about happenings in particular that are not addressed, please let us know by emailing MHA's Caren Howard at choward@mentalhealthamerica.net.
Advocacy Programming
Thank you to everyone who participated in MHA's "Advocacy Mondays" during May is Mental Health Month! Instead of visiting Capitol Hill in Washington, DC, MHA invited advocates to visit federal legislators Back Home in their states. Over 250 people downloaded our Act B4Stage4 Advocacy Toolkit and many people called, wrote, visited and interacted on social media with their members of Congress!
If you or your organization did not have a chance to speak with your legislators in May, the toolkit is designed to be helpful year-round. Download it here.
Federal
Current Federal Legislation
Call, write, post or tweet to your legislators to lend your support to the following bills MHA is supporting:
Overdose Prevention and Patient Safety Act introduced by Rep. Earl Blumenauer (OR-3) and Sen. Joe Manchin (WV). H.R. 2062/ S. 1012 would align an old law with the Health Insurance Portability and Accountability Act to fully integrate substance use health information.
Resilience Investment, Support, and Expansion (RISE) from Trauma Act introduced by Sens. Richard Durbin (IL) and Shelley Moore Capito (WV). S. 1770 would prevent and mitigate childhood trauma's impact on mental health.
Mental Health Services for Students Act introduced by Rep. Grace Napolitano (CA-32) and Sen. Tina Smith (MN). H.R. 1109/S. 1122 would extend mental health services in schools, a key access point for children before a crisis.
Mental Health Professionals Workforce Shortage Loan Repayment Act introduced by John Katko (NY-24). H.R. 2431 would authorize a new loan repayment program in designated mental health professional shortage areas.
State
MHA appreciates the opportunity to work with affiliates and state Mental Health Legislative Champions to introduce legislation for state recognition of clinically-integrated peers. Some legislators plan to introduce this legislation in their 2020 sessions and other states are working with their regulatory agencies to incorporate peers as part of clinical teams.
Congratulations to states that have passed parity and mental health education legislation in their 2019 session!

States that passed Parity: Colorado, Connecticut, Maine, Minnesota, New Jersey, Wyoming
States that passed or are close to passing funding for Mental Health Education in Schools: Colorado, New Jersey, Texas

Unfortunately, South Carolina is the latest state to request approval from the Administration to impose work documentation requirements on Medicaid recipients.
Back Home Campaign Affiliate Spotlight
A special thank you to MHA of Los Angeles, Mental Health Connecticut, and Mental Health Minnesota for contacting their members of Congress to ask for federal funding for building the national peer workforce. Though the funding request was not included in the Fiscal Year 2020 spending bills, we got the attention of Congress through affiliate legislative advocacy!
MHA affiliates: contact your RPC Representative for information about receiving a travel stipend to attend an upcoming Regional Policy meeting in Nashville, Austin, and San Juan.
For any comments or questions about this mailing, email choward@mentalhealthamerica.net.