You are here
How a Video Game Could Change the Way We Think About Mental Health
August 17, 2017
By Jennifer Cheang, MHA National Digital Marketing Manager, and Sachin Doshi, MHA National Director of Development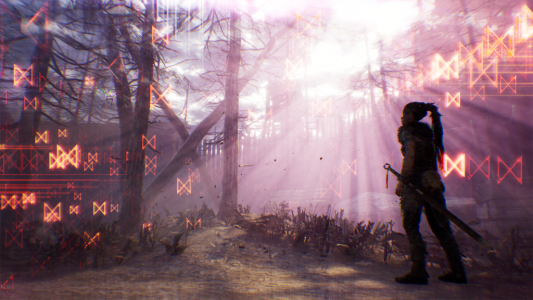 Photo Credit: Ninja Theory
Warning: Some major plot spoilers below, as well as sensitive content.
Video games are growing exponentially as a form of mass media. An estimated 42 million Americans played video games for more than three hours per week in 2015. In fact, Let's Play videos are some of the most popular types of videos on YouTube.
Not only are gaming communities growing, the technologies used to produce video games are increasingly allowing developers to weave intricate storytelling and lifelike visuals into their puzzle and combat mechanics. While not everyone plays video games, the medium has grown so significantly that no one can dismiss gaming anymore as the hobby of a niche group of people.
Video games have the potential to become powerful tools that can be used to change the way we think about mental health. Games present an experience like no other – the player is forced into a reality that is not their own and must interact with the environment to progress through the character's story.
Over the weekend, we played a recently released game that has gained a significant amount of critical acclaim for its depiction of a woman who lives with psychosis: Hellblade: Senua's Sacrifice.
Before the game was released, it quietly gained recognition for a plot that centered around the experience of psychosis, putting the developers, Ninja Theory, in an incredibly precarious position for an industry that often uses mental illness as a plot device or cheap thrill.
Psychosis is a general term used to describe a set of symptoms of mental illnesses that result in strange or bizarre thinking, perceptions (sight, sound), behaviors, and emotions. Psychosis is a brain-based condition that is made better or worse by environmental factors - like drug use and stress. Psychosis can also be notoriously hard to convey to those who have not experienced it.
Conditions that have psychosis as a main symptom are referred to as psychotic disorders; however, psychosis may also occur as a feature of other disorders like bipolar or major depression. You can read more about psychosis here.
So, does Hellblade: Senua's Sacrifice get it right? We think so. Here are our 5 main takeaways:
Video games transport you to a world like no other. Hellblade completely transports you into a new reality using auditory, visual, and even tactile effects, and that experience may be a transformative way to educate others on the experience of mental illness.
The developers do not attempt to "fix" Senua's psychosis. This reinforces that idea that recovery is not a straight path forward, and that Senua's condition is not something that can be fixed with a simple solution, but rather something that she has learned to live with.
Vulnerability is not synonymous with a lack of strength. It is clear that Senua is struggling, but her strength comes from her determination to push through her crisis and survive.
Though the game contains a fair bit of combat, Senua is never presented as a violent individual. This important characterization is backed by research that states that the majority of individuals with mental health conditions are not violent. In fact, people with severe mental illnesses are over 10 times more likely to be victims of violent crime than the general population.
Senua's experience is never questioned or invalidated. Whether or not the events in the story took place in objective reality does not matter. These events, actions, and characters are incredibly, vividly real to Senua and cause her significant harm. What matters in the game is how you choose to live with them. Whatever reality you are thrown into, it is Senua's reality and you must accept that in order to progress.
We were a bit anxious to play the game at first given the troublesome history of depictions of mental health conditions in games. We expected to take offense at the way they would portray an individual living with psychosis as dangerous given the necessity for combat, but in the end,our biggest issues were fairly minor gameplay complaints.
We were pleasantly surprised at not only the quality of the experience but the ways that it dispels commonly held beliefs about psychosis and those who live with it. The game also provides ample trigger warnings prior to the start of the game as well as a mental health resource hub before the game starts and after finishing.
Video games are a powerful instrument for influencing the way we perceive mental health. But with that power comes questions about the roles and responsibilities of video game developers as they craft their narratives.
Standards, however unspoken, exist in traditional media – film, journalism, TV, and more – around respectfully and accurately addressing mental health issues.
It's time to restart a conversation around establishing the same standards in video games.
Developers such as Ninja Theory and others are to be commended for their efforts in this arena, and we hope to see more studios take note.
---
If you'd like to learn more about how the developers consulted with mental health professionals as well as peers with lived experience to inform the development, check out this teaser of their documentary featurette which can be found in full if you purchase the game:
Hellblade: Senua's Sacrifice is available on PS4 and PC. Though we highly recommend playing Hellblade for its portrayal of psychosis, it is not a game that would be easily understood by those unfamiliar with how video games work. It also deals with dark themes of violence and abuse and depictions of gore which may be triggering for some.
If you're struggling with psychosis, visit our Finding Help page, or use our Where to Get Help Interactive Tool to find the best treatment options for you.
If you are in crisis, please seek help immediately. Call 1-800-273-TALK (8255) or text MHA to 741-741 to reach a trained crisis counselor, call 911, or go to the nearest emergency room.