You are here
The Risks of Exercise: Too Little and Too Much May Affect Psychological Health
May 12, 2017
By Timothy Neal, MS, AT, ATC, CCISM, NATA Liaison to Mental Health America, Assistant Professor & Program Director of Athletic Training, Concordia University Ann Arbor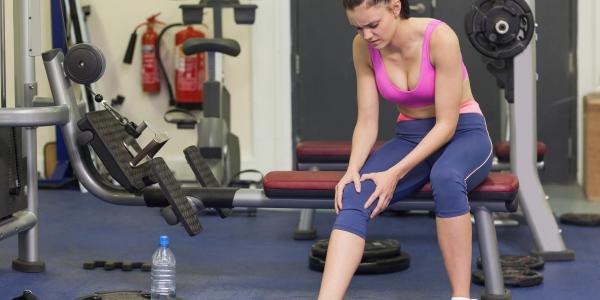 Life is full of risks. Choices are made all day long, some of which place or remove one from risk. It seems as if one moves from one risk to another during their daily lives. While some risks can't be controlled, there are others that can. One area of "risky business" includes exercise.
One risk associated with exercise is getting too little of it. Unless restricted by a physician for a medical reason, or a disability has left one unable to exercise to some degree, people of all walks of life and age can engage in physical activity. There are clear physical and mental health benefits to exercise. While there is some risk to exercising (injuries, dehydration), it is estimated that 80% of Americans do not get enough exercise per week to develop their cardiovascular or muscular strength needs. This inactivity can lead to weight gain, cardiovascular disease, and other associated medical conditions that are detrimental to health and well-being. One cause of an inactive, or sedentary lifestyle may be mental illness, especially depression, symptoms of which include a lack of motivation, or losing interest in activities that were one enjoyable, such as exercise.
Another risk associated with exercise that receives little notice, and in some circles, is lauded as a virtue, is exercise addiction. Exercise addiction, though rare, affects about 3% of the population and poses mental health challenges to physically "in shape" individuals. Research has shown that that exercise addiction, like any compulsive behavior, is maintained by its mood-enhancing effects. These effects range from merely managing anxiety to reducing the effects of anger, depression, and boredom. The double effect of improving one's aerobic and/or muscle strength and appearance, along with mood enhancement through exercise serves to further increase one's self-esteem as a result of adhering to a disciplined and rigorous exercise regimen.
Many who are addicted to exercise are commended for their dedication or their appearance by friends, family, coaches, teammates, and the media. This validation and attention only reinforces the efforts of the exercise-addicted.
People who are addicted to exercise may also have a second or a third addiction such as nicotine, alcohol, drugs, work, food, or sex. It is estimated that as many as 25% of addicted people have a second addiction, further complicating their condition and the care needed for successful treatment. One study revealed that eating disorders, as well as addictions to caffeine and shopping are closely associated with exercise addiction.
How can a person tell if they are addicted to exercise? Common signs include:
Escalating to an unreasonable level of sustained exercise;
Exercising through chronic and sometimes debilitating injuries or illnesses;
Needing more and more exercise, or escalating levels of intensity to achieve mood-altering effects;
Not taking days off to recover; and
Continuing a vigorous workout schedule despite negative consequences to relationships and work/school responsibilities.
For example, a field hockey player may run three miles in between morning and afternoon practice sessions during the pre-season. Or a lacrosse player may lift weights both in the morning and afternoon to keep improving their appearance, as opposed to their strength levels.
Another way to see if you could possibly be experiencing exercise addiction would be to use the Exercise Addiction Inventory Short Form. It is a six-question tool to determine if a person is at risk for exercise addiction.
Mental Health America and the National Athletic Trainers Association believe it is important to identify exercise addiction and other conditions Before Stage 4 (B4Stage4). This means getting help at the early stages of a problem, in order to prevent it from worsening to stages that put a person at risk for significant mental illness. Remember, treatment is out there and if you think you have been taking a risky behavior too far, you can seek care to live a full and enjoyable life.