You are here
Why the Egg Matters
February 11, 2019
By Paul Gionfriddo, MHA President and CEO, and Madeline Reinert, MHA Policy and Programs Associate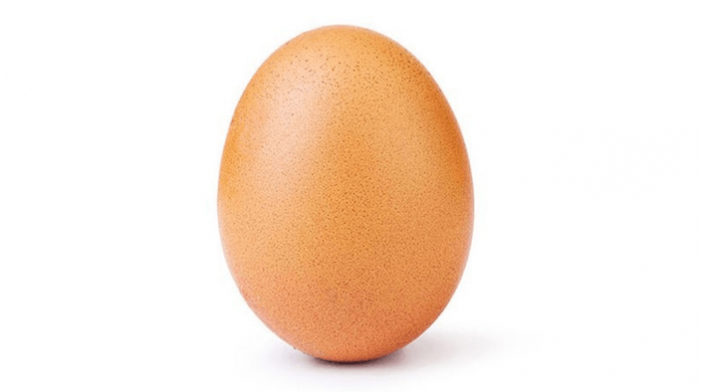 A little more than a month ago, a picture of a brown egg found its way to Instagram. Its original purpose was both straightforward and tongue-in-cheek – to set a record for the greatest number of "likes" of an Instagram post, using an everyday image that had no earthly reason to attract a following of its own. The old record was 18 million.
The Instagram community responded with both humor and enthusiasm. In a matter of weeks, the egg not only passed the old world record, it managed more than 50 million likes – becoming known in the process "the world record egg." You may have heard of it.
The person behind the egg – creator Chris Godfrey – decided to do something more. Over time, the egg began to crack, and there was a promise that something would emerge from the egg live on Hulu just after the Super Bowl. There was plenty of speculation about what that might be. And it turned out to be something pretty special. Mental Health America was approached to be included – and of course we said yes – because the big reveal would be a message about mental health and seeking help if you need it.
It's what we are all about – we believe in addressing mental illness Before Stage 4 – before crisis. That's what we do with cancer, heart disease, and diabetes. Whenever we can, we start way before Stage 4. This is what we should be doing when people have serious mental illnesses, too.
The humor of the egg – as it turned out – had an upbeat and optimistic message. While the egg might "crack" under the pressure of social media, there was a way for even it to get help. And a way for all of us to preserve and protect our mental health.
So why does this all matter?
In the age of social media, we have an unprecedented opportunity to get our messages about mental health out to a wide audience. MHA has nurtured its online presence during the past five years because we reach so many people – and they reach us – through social media. Our social media reach has grown to more than half a million, and it is a reach that extends across media platforms. We know it makes a difference.
MHA has an Online Screening Program in which anyone can anonymously take a screen for depression, anxiety, bipolar or other conditions. Since its inception in May 2014, MHA has collected over 4 million screens, and we typically screen about 3000 people a day. It's not a diagnosis, but we encourage screeners to use the results to start a conversation with a loved one, a doctor, or a trusted friend. Our screeners come to us organically – MHA is a non-profit with very little resources for marketing. So, when the opportunity came along to collaborate on social media with the World Record Egg, we knew this was an opportunity to literally save lives.
On Monday February 4, the day following the big egg reveal, more than 5,000 people visited www.mhascreening.org to take a mental health screen. 5000 people who decided it was time to check in on their mental health and see if they needed help. Because of an egg.
The people who screened on February 4 were slightly younger than our typical screening population. Seventy-five percent screened positive or moderate to severe for the condition for which they screened. However, 63% – more than our usual percentage – said that they were not in treatment or had not been diagnosed. And 31% were male – a significantly higher percentage of men than is normally the case.
People can joke about the "big reveal" and the egg, but the truth is, the egg mattered. The egg mattered because it helped us reach a population in need. It elevated the conversation to an international level to reach even more people, to help more people.
Early identification and intervention in mental health is what acting Before Stage 4 is all about. And that's why we're proud that something as simple as a picture of an egg brought more people to us.
That picture made a difference. Social media made a difference. And together - moving forward - we want to keep talking about mental health – online and off – so that we can continue to change the trajectories of lives.